Main content starts here, tab to start navigating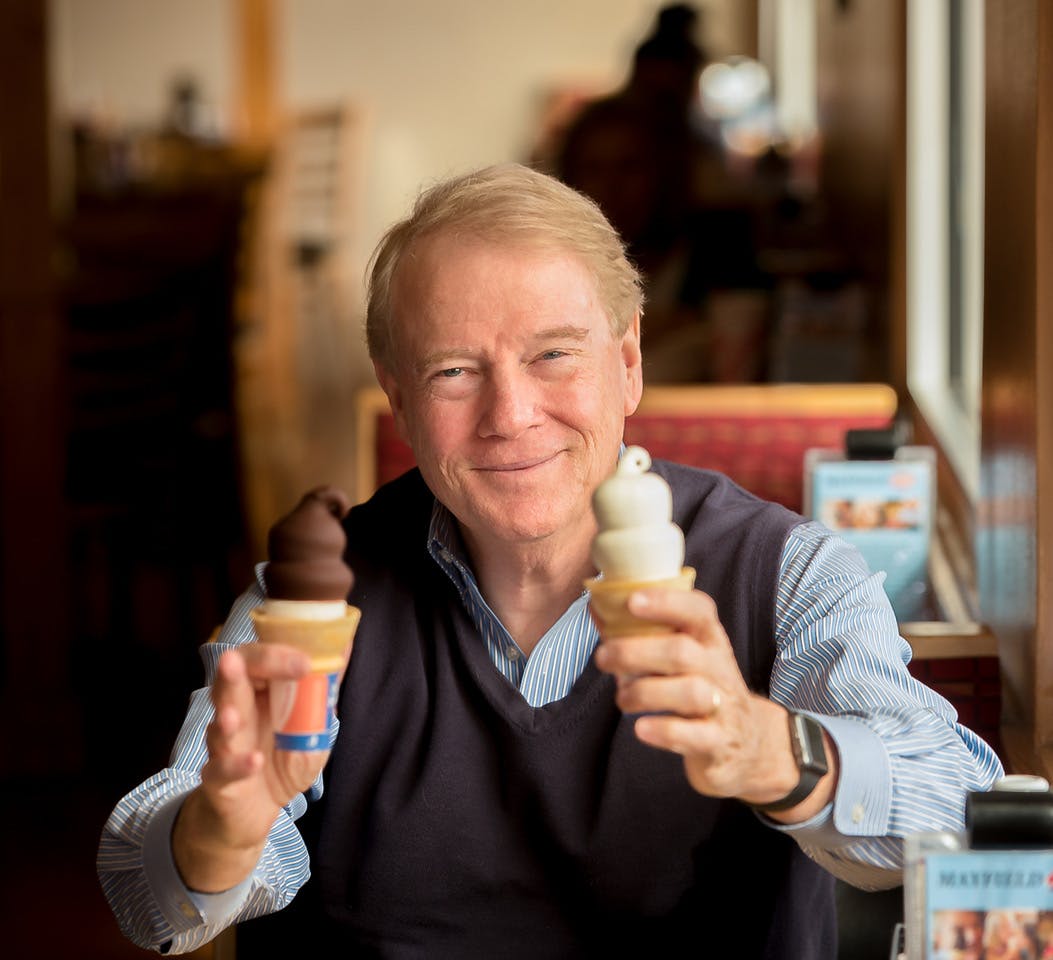 Robert U. Mayfield
I grew up in the Dairy Queen business there in Cleburne and you can see pictures of our heritage in our Mayfield stores, with pictures of the original store and the way things were in the late 40's and early 50's in Texas Dairy Queens.
I went to the University of Texas School of Law and had a successful practice in Hereford, TX when I took over my Dad's business in Austin in 1979. I still occasionally practice law. My sons Linton and Nathaniel have followed me into the business. My wife, Marion, is from Nova Scotia, Canada, Linton's wife Tatyana is from Ukraine, and Nathaniel's wife Ulrike is from Germany. We like to think of ourselves an international, cosmopolitan family. Speaking of family, we think of our employees as our "work family". Many of them have been with us for a long time and we are very proud of that.
It has been a real pleasure to see so many of my work family learn and grow, often into management with our company. I love seeing their families at our annual Christmas party. We enjoy our work, and we at Mayfield Dairy Queens want to do our very best to see that you have both fun and a good experience when visiting one our stores.
We try to live by our mission statement "Making Your Day with Fun, Quality, and Caring…Every Single Time!" And not just your day, the customer. We also make the day of our fellow Team Members, our "internal customers". We are a little different from many other companies in our industry. We pay at a higher starting rate of $12 per hour. We are a good place to work at, and it shows in the store when you come in or go through the drive-up window. We honor each work anniversary with a gift card. We honor each Team member with a cake on his or her birthday. We give recognition bonuses for a job well done. We give you business cards to pass out to your friends. We have high standards and you will find that our Team does, too.
When I go to Team meetings, I find that almost everyone there has done such a good job with customers that they even get money tips! How often do you see that in a fast food restaurant? Although this is my company, I couldn't have done it alone. Special thanks to my Vice-President of Operations, Ernest Paredez, for the excellent food quality, hospitality and clean restaurants you will experience.
We now have two managers we have recently promoted to Area Managers, Ken Davis, Eric Gaona, and Carlos Garcia. I hope you can meet them as you come to my stores. I love meeting and talking with my customers and my Internal customer, my work family. If you watch our Facebook pages you will see occasions where you can come to lunch with the owner, where I get to meet some of my loyal customers and give away some food or treats. You will also see on Facebook and in the stores that we support numerous sports teams, and raise money for the Dell Children's Hospital here in Austin.
—Robert U. Mayfield